Molding the soul with clay, shaping the earth into art,
my passion is earthenware !
Earthenware made the pays d'Apt
Made with care, the pieces shaped by my hands are unique and made to last. I offer you tableware that will bring good humor to your table with colors for all tastes, red, green, blue, yellow, orange… put on the imagination and dare to color or be sober with black and white.
All my creations are suitable for food consumption and suitable for dishwashers and microwaves.
tea pots
assortment of mugs
mugs and cups
bowls
cake dishes
jugs
salad bowls
round or square plates
A craftsman's know-how on your table
Always in a good mood to join my workshop facing the Luberon, I create useful and pleasant dishes for your daily life, a black glazed earthenware. My pots are for culinary use and lead-free.
Poterie l'Arlequin
Route de Saint-Christol
Rustrel (84) – France
+33 6 87 08 06 07
La boutique "R de rêve"
10, grande rue Jean Jaurès
Aigues Mortes (30) – France
+33 4 66 53 65 50
Confiserie Riol
19, Rue de Gutenberg
Aurillac (15) – France
+33 4 71 48 05 70
2022 © video Provence Live – musique par Zaratustra27
A tea time… a teapot and an assortment of cups, mugs and tumblers. A gourmet meal… a cake plate for your sweet or savory preparations. To embellish your table, a pitcher, a salad bowl, round or square plates…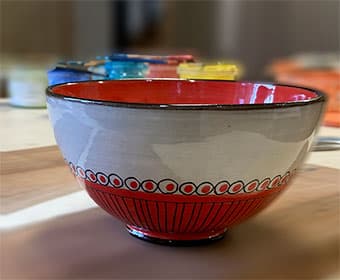 Bowl
Ø 15 cm
Height : 8 cm
Available in several colors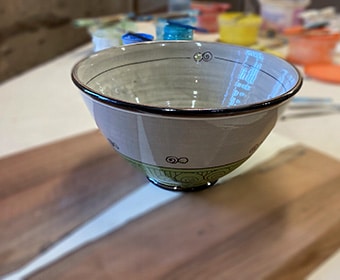 Salad bowl
Ø 21 cm
Height : 12 cm
Available in several colors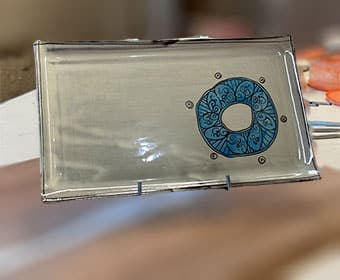 Cake dish
Length : 28 cm
Width : 16 cm
Available in several colors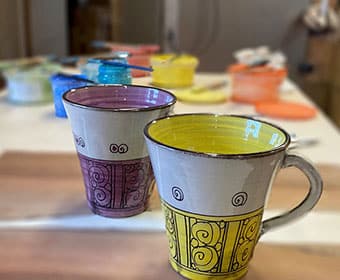 Conical Mugs
Ø 10,5 cm
Height : 11 cm
Available in several colors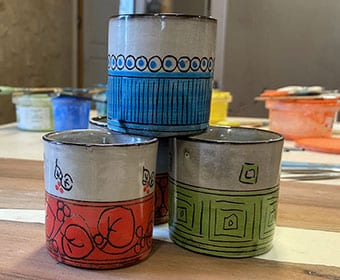 Cups
Ø 6,5 cm
Height : 6,5 cm
Available in several colors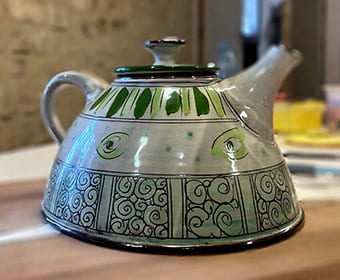 Tea pot
Content : 1,2 litres
Size is variable
Se décline en plusieurs couleurs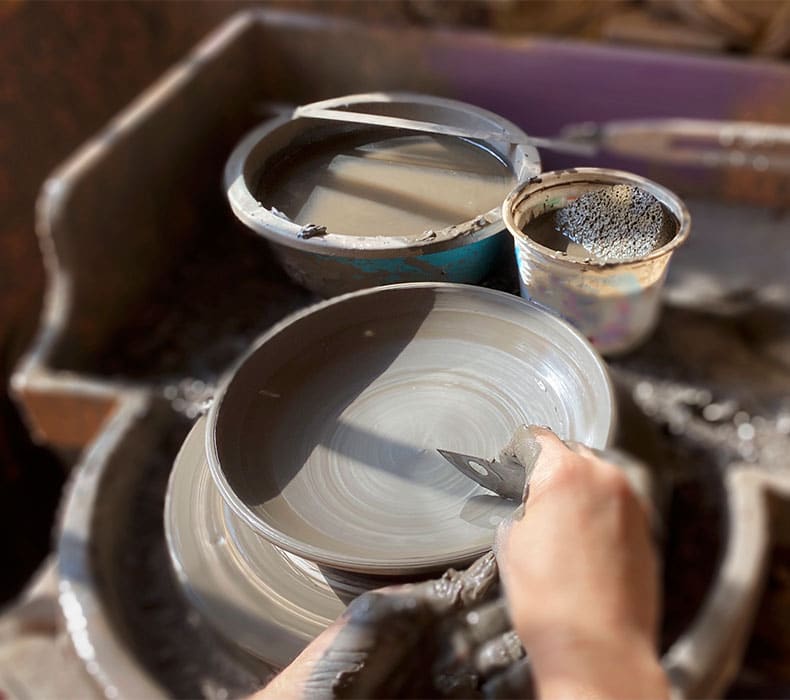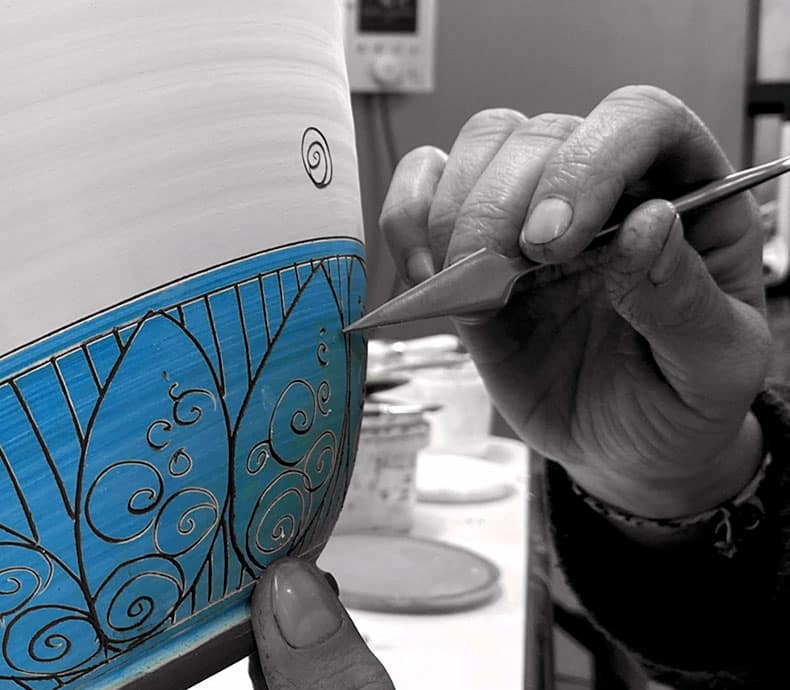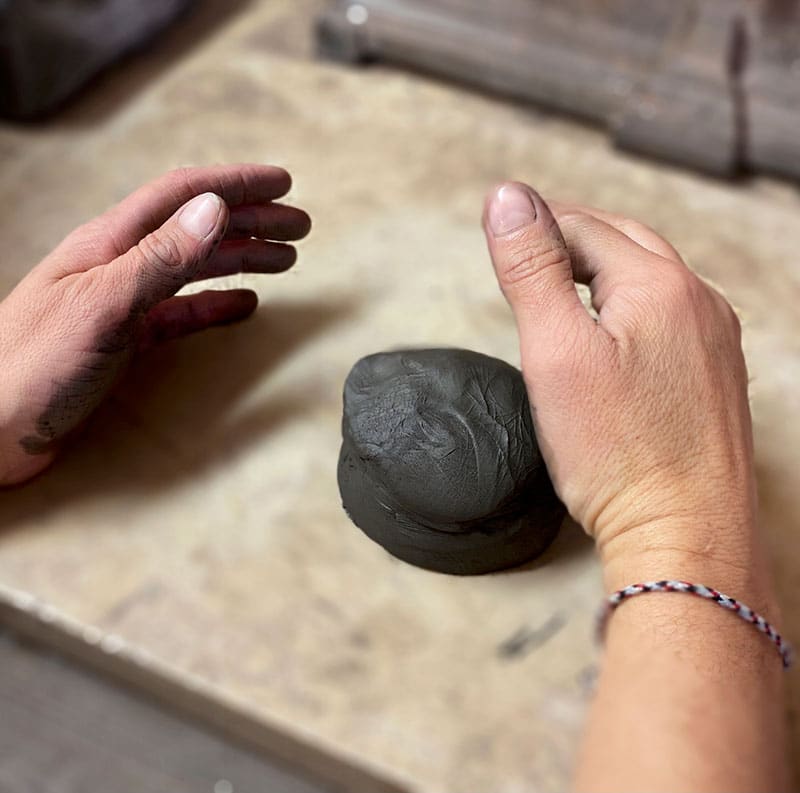 Everything is realized in my workshop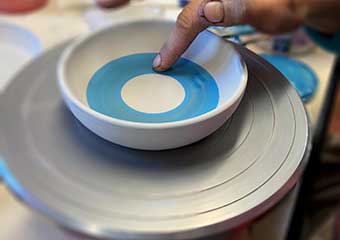 The color
Reel in before the decoration, red, blue, green … The colors twirl on my pots. Long live the color!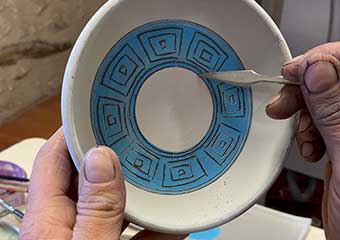 SCRAFFITO
The « sgraffito » comes to remove some material to make chips of earth and reveal the pattern… It's fun!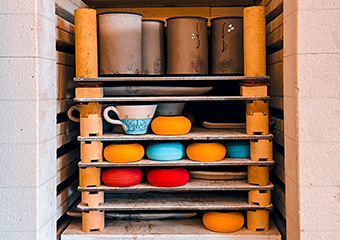 The Two Fires
A first firing, called the cookie, is done at 980°. The second firing reaches 1050° and allows the glaze to vitrify on the shard.
Cooling for 12 hours and the pieces come out of the oven ready to be used … It's magic !
All achievements, where possible, are achievable and I will gladly take on the challenge.
Do not hesitate to contact me
I'm here to meet your needs!
Address
Poterie l'Arlequin
9, Place Farinette
84400 Rustrel
France
Send me an email
sophie.manuelian@wanadoo.fr